Today was the day to meet one of my Korean friends which I have been writing with after meeting on a language exchange site.
It was a great meeting and I'm feeling less homesick now and more comfortable in Korea. He taught me a lot about the different places in Seoul and how to behave. We started in at the city hall and walked through the inner city and talked about more general things and he could tell me a lot about different buildings and some facts which can be useful. We then followed the stream in the inner city (정계정) to a district further east, where we looked at small streets…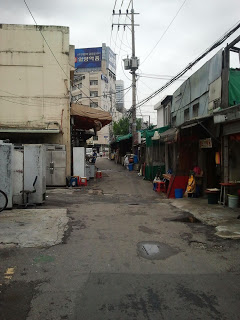 …where we looked at small shops and had rice-sticks and drank some drink which very much reminded me and my friend of honey-pop (the cereal) just in liquid form. I was quite filled up after the drink, even if it weren't much but we then went eating on a big food market. That was a great experience and we had some fun with my chop sticks technique (or the lack of it). We had Korean pancake which can be seen in the lower right corner of the following picture: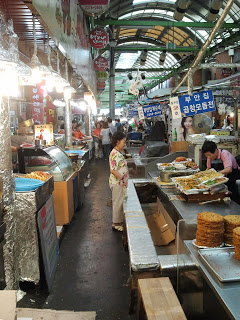 We then continued the tour through shopping streets and met those guys:
and went to a cartoon, character, random things museum. Also with old military hats. My friend took a picture of me with one of those on so here is the first picture of me in Korea (I tried to look serious and strict but I bet nobody would take me serious when I tried to prevent them from doing anything unwanted 😉 ):
After a break from all the walking and some more talking we separated and I took to Yeouido, an artificial island, which my friend had recommended. And it was great: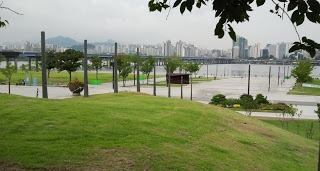 There is a park all around the island and I chose to do the same as the days before: Walk. It was beautiful and I took some pictures, but if you would like to see more of this island you have to find them on the internet or, way better, come to Korea 🙂 There is just one picture that I would like to share, which is from the opposite site of the island relative to the picture above. It's a bridge for pedestrians and bicyclists and looks like a roller coaster from below. The water you see is the river separating the island from the rest of the country and makes the island an island 😀
To give the last 4 days an agenda, I would call it "Visit Seoul and try to find the places where you can take a rest from it".
Enjoy your day!