Now I have a place of my own. Finally. So great 🙂 I'm not completely alone, I'm sharing my room with another guy from the DTU who is doing a Dual Degree here at KAIST and just arrived in Korea today. He is really nice and I think we will have a great time. But now I have my own desk, my own bed, my own cupboard and drawers under the bed… oh, it just feels good and like really arriving here. Sorry to say that, but I'm staying here! 😉 Actually I think I will miss Copenhagen sooner or later but right now I'm just happy to have some space which is my own 🙂
I left the dormitory this morning together with my room mate at the hostel who is also studying at KAIST and we went to Daejeon together with the KTX train, the Korean Train eXpress.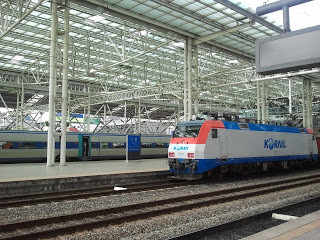 It was a nice ride. Silent and we had to turn on the GPS and measure the speed ourselves to be convinced that we are actually going quite fast. We didn't go the 300 km/h which the train can go, but 250 km/h was still pretty fast.
In Daejeon we used our newly acquired T-money-cards, which is the Korean transportation card and then we had to walk quite long to get to the dormitory. We found it at last and got our room keys and our student cards (which would be a very obvious picture for this blog, but for security reasons I don't like that people post photos of their identity cards…). This is where I live now (my bed is on the right).
Me and my new new room mate went out eating with his buddy and we then had a walk over the campus. You will get more pictures of the campus the next days, but I can tell you there are rabbits and lawns 🙂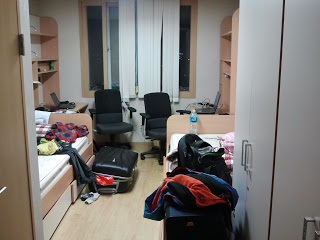 Just a last picture. This is (a very bad) picture of what it looks like from my room by night: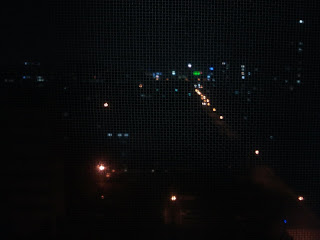 Stay tuned!