I like to start with a few pictures from the last introduction day last Friday, where we had two shows (one in the morning before the campus tour) and one in the evening when we where formally welcomed to KAIST (한국과학기술원):
First show. Cheerleading: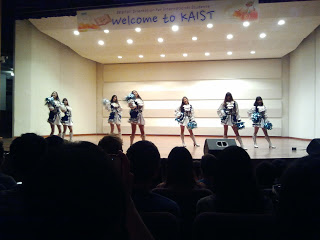 And in the evening we had traditional Korean music and dance. Notice the guy with the hat and a slight white circle a little away from his head. It's a band, which he circles around his head by swinging his head: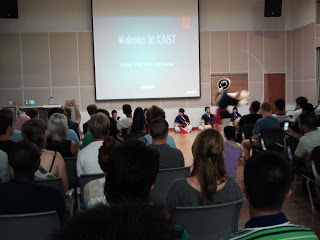 After a nice dinner with kebab, pizza and fruit salad the formal welcome was over and the introduction week completed. We then went to a bar nearby. 11 international students on their way to test their ability to handle the legendary Korean soju: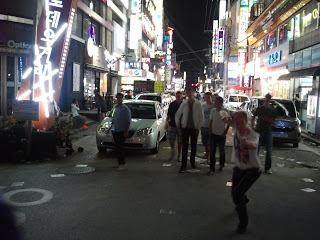 (I cheated, I had water and only nipped to a glass of soju).
Then the weekend started and I had planned to take to the climbing wall nearby but I also needed a passport photo, so I hoped to get it fast on Saturday and still be able to get to the climbing wall.
But to take it chronologically: I woke up on Saturday, had cornflakes and assembled my inline skates. They look pretty with new wheels 🙂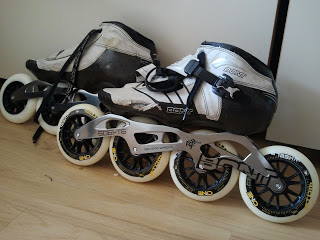 I had a long trip along the river in Daejeon and I found the inline skating track. Turns out it's a plane area with a green 200m track painted on it. The asphalt is okay and should still be a good place for training. Unfortunately it is 8-10 km away. All in all it's nice to skate here!
Then I wanted to get my photo. I went to the bus and frustrated the bus driver by not understanding what he wanted me to do with my money. It turned out I just had to throw it into a box. Now I know…
Next problem (they come with quite short intervals 😉 ). I didn't knew what stop I had to go to. I got off one stop to early and had to walk the one kilometer which was left, could have been worse but one quarter less for climbing. Then I arrived at the photo shop and got the picture taken. In a combination of Korean and sign language we found out what size it should be and how much it costs. I had to pick it up half an hour later and went eating in the meantime. I had 양지탕 which is a soup with some cooked meat and glass noodles and refreshing herbs (german: Kräuter), and of course, lots of side dishes. Was great.
When I wanted to pick up my pictures I found out that the waiting time wasn't for printing but photo-editing. Now I have professional ID-pictures for my Alien Registration Card!
But all the waiting and then also the way back home forced me to wait with the climbing.
So Sunday morning I went to the World Cup Stadium: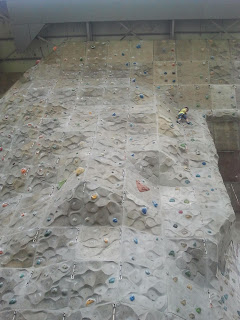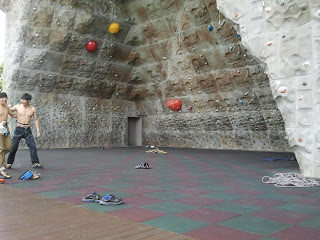 The lower part of the climbing wall has a lot of holds as you can see. This is where I climbed, or bouldered, as it is called. The problem is though, that my shoes are very soft and I was gliding down the holds all the time. And since it isn't the first time I have been bouldering now, I went out today (Monday) and bought these: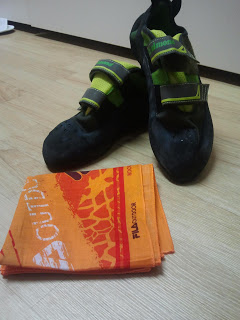 (Got some discount and the towel as extra). They are not shoes you want to wear all the time, but that's climbing…
Today was also the day where I started with my courses. Actually the first days you go to several courses and then register for those you like.
The first course was on Text Mining. I visited it only for reference, didn't want to take it, but it turns out it's interesting and challenging. The teacher is friendly but strict, as I had expected.
The second course today was on Data Mining. The other students are from different departments and the course turned out to be very close to one of my courses in the spring semester, so I think I will go for the first course on Text Mining. Also the teacher was very different. Younger and a little insecure, different from my expectation. The course was still overbooked with many students standing in the back (also because they were late. Don't do that!)
More courses to come the next days. Stay tuned!
P.S. I have shown so many pictures from Seoul, but Daejeon is also beautiful:
Picasa – Korea Diverse